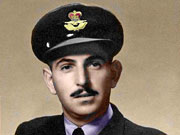 First name(s)
Gerrard Clive
Notes
Active service Malayan Emergency, Supply dropping Bristol Freighter aircraft 130 Operational Missions. Introduction Missions, RAF Aircraft, Voice Dakota, Valetta, Whirlwind and Pioneer, four Operational Missions.
Awarded Air Force Cross, Queens' Birthday awards 1970.
Flight Commander and Training Officer 40 Squadron RNZAF, 1968–1972. Aircraft C130 Hercules. Vietnam support, to and in, with troop delivery and exchange, together with Military Supply and Recovery.
Air New Zealand Captain 1972–1990. DC 8, DC 10 and Boeing 747 aircraft.
Disclaimer
The Vietnam List is an updated version of New Zealand's original Vietnam nominal roll – the Flinkenberg List – compiled by Captain Con Flinkenberg in 1972. Name, rank and unit information are from New Zealand military pay records. Read more about the Vietnam List.