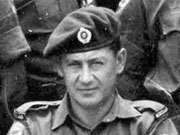 First name(s)
Lancelot Rex
Place of burial
Pyes Pa Cemetery, Tauranga
Notes
Rex was a Malayan veteran who returned to Terendak, Malaysia in 1968. He was Company Quarter Master Sergeant for V4 Company from May 1969 to May 1970.
He died at Tauranga in 1997 and is buried in Pyes Pa Cemetery, RSA section, Row 1, plot 169.
Disclaimer
The Vietnam List is an updated version of New Zealand's original Vietnam nominal roll – the Flinkenberg List – compiled by Captain Con Flinkenberg in 1972. Name, rank and unit information are from New Zealand military pay records. Read more about the Vietnam List.