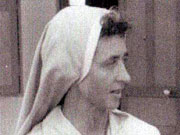 First name(s)
Sheila Mary
Also known as
Sister Mary Laurence
Notes
Sister Mary Laurence (Sheila Mary O'Toole) of the Sisters of Our Lady of the Missions worked with indigenous Montagnard refugees at Phuoc Binh in Phuoc Long province, March 1969–April 1975. Awarded CNZM for her work in Vietnam. 
Listen to a two-part Radio New Zealand interview with Sister Shelia O'Toole, 11 and 18 September 2010:
Disclaimer
The Vietnam List is an updated version of New Zealand's original Vietnam nominal roll – the Flinkenberg List – compiled by Captain Con Flinkenberg in 1972. Name, rank and unit information are from New Zealand military pay records. Read more about the Vietnam List.