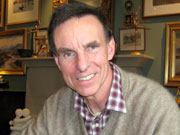 First name(s)
Alan John David
Notes
Served in Vietnam with the NZSMT for a three-month tour of duty, December 1969–February 1970. This involved outpatient work, minor surgery, post-operative care, and civil aid.
Worked as specialist physician and clinical director of respiratory medicine for the Canterbury District Health Board until 2007, when he retired to become a full time artist and portrait painter.
Vietnam War Oral History Project interviewee. Interview and transcript held in the Alexander Turnbull Library Oral History and Sound collection in Wellington, New Zealand. Reference: OHInt-0959-62
Disclaimer
The Vietnam List is an updated version of New Zealand's original Vietnam nominal roll – the Flinkenberg List – compiled by Captain Con Flinkenberg in 1972. Name, rank and unit information are from New Zealand military pay records. Read more about the Vietnam List.