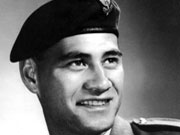 First name(s)
Graham Joseph
Notes
Enlisted in the Regular Force of the New Zealand Army and posted to 16th Field Regiment RNZA, Papakura Camp in June 1965.
Selected for the New Zealand Army contingent to the United Kingdom in November 1965 (Exercise Powder Horn). During this visit, the contingent became the first overseas troops to mount guard at Buckingham Palace.
Passed the NZSAS Selection Course in 1966 and was posted to 1st Ranger Squadron NZSAS. Saw service in Borneo, attached to 22 SAS Regiment for six months in 1967. This was followed by Operational Service in Vietnam with the 2nd Detachment, 4 Troop NZSAS, deploying to Phuoc Tuy Province in November 1969.
Killed in action during a contact on patrol in Binh Tuy Province, 14 January 1970. Buried with Military honours in the Returned Servicemen's section of Wairoa Cemetery on 3 February 1970.
Disclaimer
The Vietnam List is an updated version of New Zealand's original Vietnam nominal roll – the Flinkenberg List – compiled by Captain Con Flinkenberg in 1972. Name, rank and unit information are from New Zealand military pay records. Read more about the Vietnam List.