Australian Military Forces Pocketbook on South Vietnam used by Gunner Ken Deacon, 1965-1966. Part political doctrine, part tourist guide several thousand of these green-covered pocketbooks were issued to Australian and New Zealand military personnel during the Vietnam War. Produced by the Australian Army Headquarters in Canberra during the mid-1960s, they provided soldiers with an overview of the history of Vietnam, its geography and climate, the people, religious beliefs and customs, as well as a list of useful Vietnamese words and phrases. There were also chapters on the organisation of the South Vietnamese military and their Viet Cong enemy. This information was illustrated with detailed drawings of Viet Cong soldiers and their weaponry. These ranged from conventional weapons such as mortars and machine guns to the improvised bicycle mine.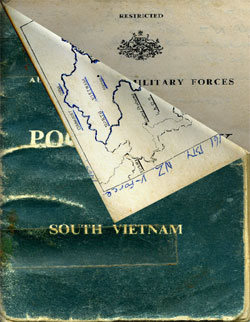 Take a look inside the Australian Military Forces Pocketbook here.
Ken 'Padre' Deacon served in Vietnam with 161 Battery RNZA from July 1965 to November 1966. He was with the Battery when they took part in the Battle of Long Tan on 18 August 1966.
Long Tan was the New Zealanders' most significant action in Vietnam; in two and half hours the Battery's L5 howitzers fired more than 1100 shells in support of Australian infantry trying to hold off a large enemy force in the Long Tan rubber plantation, 5km east of Nui Dat.
Working in torrential rain, the New Zealand gunners continued to keep the guns supplied with ammunition. The difficult conditions were made even more hazardous by frequent lightening strikes in the Battery area; including one on the command post where Ken Deacon was working:
Repeated lightning strikes mingled with the flash of the guns in the murk. Early in the action, one damaged the tannoy that normally relayed the fire orders from the battery command post to the guns and PRC/25 radio sets had to be used instead. Working on the switchboard was a dangerous business in these conditions. One strike threw Gunner Ken Deacon back from the switchboard and the Staff Sergeant Steve Day was knocked over while standing on a steel mesh plate. Both were dazed though not seriously injured.

Ian McGibbon, New Zealand's Vietnam War: A history of combat, commitment and controversy, p. 154
How to cite this page: '
Australian Military Forces Pocketbook
', URL: https://vietnamwar.govt.nz/memory/australian-military-forces-pocketbook, (Ministry for Culture and Heritage), updated 18-Aug-2015