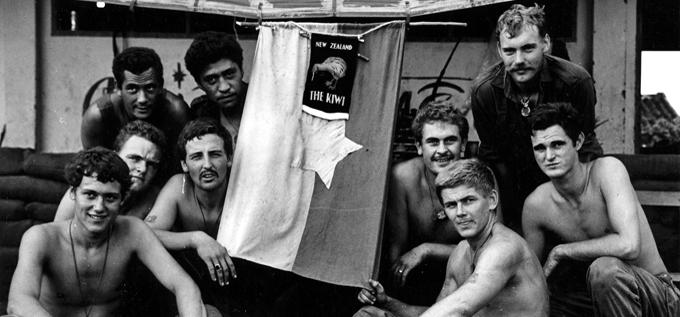 New Zealand service personnel and civilian volunteers were in the jungles, skies, hospital wards, training camps, villages, and offices of South Vietnam from 1963 to 1975. Joining the US-led campaign to curb the spread of communism in South East Asia, New Zealand's military force in the Vietnam War peaked at 548 in 1968. Over seven years, more than 3000 served from Army, Navy, and Air Force. Thirty-seven were killed and 187 wounded. Around 200 non-combatant aid workers and medics complemented the khaki contingent, with a civilian surgical team first to arrive in 1963 – and last out of South Vietnam in 1975. Two civilians died. Although New Zealand troop deployments and losses were small in comparison to other wars, the country's involvement in the Vietnam War was notable for the strength of opposition it drew, and for its ongoing effects within families and communities four decades after it ended.
Reserved entry
Vietnam was the first war New Zealand fought without its traditional ally, Great Britain. Increasingly strong defence ties with the US and Australia, forged through the 1951 ANZUS alliance, persuaded Prime Minister Keith Holyoake to respond to US calls for military support for the escalating conflict – albeit unenthusiastically at first. Averting the public outcry a combat deployment would create in an election year, Holyoake's 1963 concession to US pressure took the form of a surgical team "armed with nothing more dangerous than scalpels." [1] Trained civilian medics would treat war and accident injured Vietnamese under the auspices of the Colombo Plan. Launched in 1950, the plan was intended to help combat the spread of communism by encouraging economic and social development within poorer Asian countries. [2] Holyoake's National Government was re-elected in November 1963. In June 1964 a 25-strong army engineer detachment (NEWZAD) followed the surgical team into Vietnam to work on reconstruction projects. Holyoake's stalling tactics were this time deemed inadequate by US and Australian standards, and our non-combat engineering deployment was short-lived.
A combat commitment
New Zealand's combat commitment to the Vietnam War came in July 1965, when an artillery battery replaced the non-combatant engineers. In April 1967, a tri-services medical team set up in Bong Son. A month later, the first company-strength unit of the 1st Battalion, Royal New Zealand Infantry Regiment (1RNZIR) was deployed from its operational post in Malaysia where, since 1964, they were part of the British Commonwealth Far East Strategic Reserve in the Borneo Confrontation Campaign in Borneo. A second infantry company was deployed to Vietnam before the end of 1967. New Zealand army personnel also provided administrative support in Vietnam for those in action. V Force HQ staff operated out of Saigon, and 60 personnel were attached to the 1st Australian Logistic Support Group (1ALSG) at Nui Dat. The latter included two army nurses per rotation at the 1st Australian Field Hospital in Vung Tau. A New Zealand Special Air Service (NZSAS) troop joined the Australian SAS in December 1968, and a small number of Royal New Zealand Air Force (RNZAF) personnel served as helicopter pilots or forward air controllers.
Fighting force
All servicemen who served in Vietnam were regulars or had enlisted to join V (Vietnam) Force, New Zealand's contingent in the US-led 'Free World Military Force'. Their objective was to help the South Vietnamese government halt the spread of communism, by defeating the Viet Cong and North Vietnamese bid to unify the country by force. New Zealand servicemen came from town and country, and a range of social and service backgrounds. Some were career soldiers; others joined the regular force to fight in the war of the day. Around 35 per cent were Māori. [3] The road to Vietnam for many started in school or as army cadets, or in the Territorial Force. More than half the troops in Vietnam went by way of Malaysia. Early infantry recruits were experienced in jungle warfare, having completed operations and exercises in Malaya and Borneo. In contrast, Gunner Pat Duggan recalls just a two-week stint of specialised training at Papakura Camp for those selected in the first intake of 161 Battery, RNZA. [4]
---
[1] Pat Duggan, 'What have they done to the rain?', 2008, URL: http://www.vietnamwar.govt.nz/memory/what-have-they-done-rain, accessed 7 June 2013
[2] NZHistory, 'Colombo Plan conference, 1956', 2013, URL: http://www.nzhistory.net.nz/media/photo/colombo-plan-conference-1956, accessed 15 March 2013
[3] Ian McGibbon, New Zealand's Vietnam War, Exisle, Auckland, 2010, p. 297
[4] Pat Duggan, 'What have they done to the rain?', 2008, URL: http://www.vietnamwar.govt.nz/memory/what-have-they-done-rain, accessed 7 June 2013
Monday, 19 December 2011 - 4:16pm

This is a technical article concerning lessons learnt by an

Tuesday, 1 June 2010 - 10:51pm

Together with two other RNZN Ensigns, I was sent on a

Wednesday, 24 September 2008 - 3:39pm

A worldwide search by the New Zealand Red Cross ended in success with the discovery of Isabel Har

Monday, 4 August 2008 - 4:29pm

I was based in Singapore with 41 Squadron at RAF Tengah from 1973 to 1975.
Pages