Submitted by TerryG on December 28, 2009 6:13pm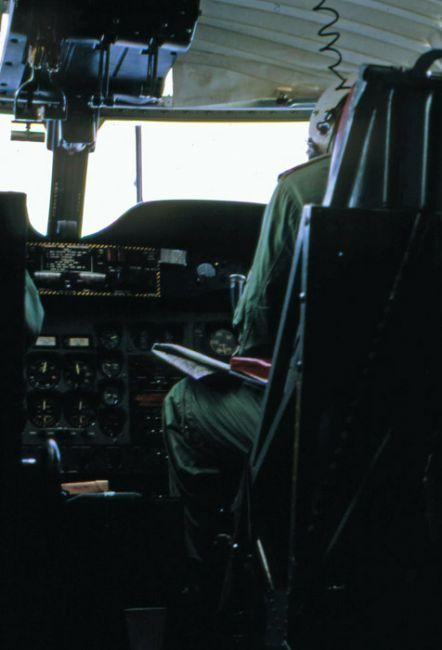 Hard at work on the flight deck, the Caribou's co-pilot from No. 35 Squadron RAAF buries himself in navigation processes soon after the aircraft enters a major storm enroute to Bong Son, October 1969.
Due to difficulties on the ground below, which purportedly included enemy activity near to Bong Son, plus additional problems in the air with the aircraft itself, the flight diverted to a United States air base at Phu Cat. Whilst waiting for repairs to be carried out members of the Band were able to watch a (seemingly) never ending stream of Phantom aircraft, after-burners glowing, leave Phu Cat on their various missions.
Reference:
Image courtesy Terry Garmonsway
How to cite this page: '1RNZIR Band Tour - Caribou pilot', URL: https://vietnamwar.govt.nz/photo/1rnzir-band-tour-caribou-pilot, (Ministry for Culture and Heritage), updated 26-Aug-2013