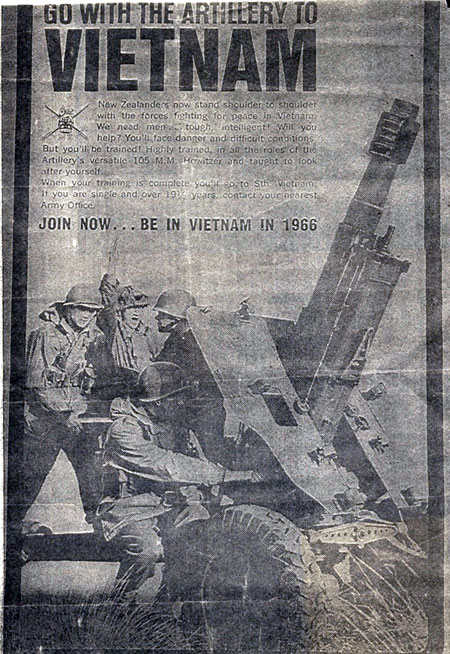 Recruitment poster from 1965 encouraging men to enlist for service in Vietnam with the Royal New Zealand Artillery.
Transcipt
Go with the Artillery to Vietnam
New Zealanders now stand shoulder to shoulder with the forces fighting for peace in Vietnam. We need men...tough, intelligent! Will you help? You'll face danger and difficult conditions. But you'll be trained! Highly trained, in all the roles of the Artillery's versatile 105 M.M. Howitzer and taught to look after yourself.
When your training is complete you'll go to Sth. Vietnam. If you are single and over 19½ contact your nearest Army Office.
Join Now...Be in Vietnam in 1966

How to cite this page: '
New Zealand artillery recruitment poster
', URL: https://vietnamwar.govt.nz/photo/new-zealand-artillery-recruitment-poster, (Ministry for Culture and Heritage), updated 28-Apr-2011