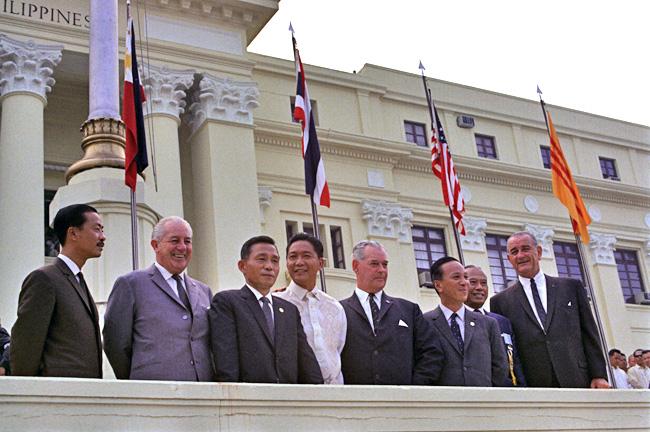 Free World Forces leaders at the Manila Conference, 1966. From left to right: Prime Minister Nguyen Cao Ky (South Vietnam), Prime Minister Harold Holt (Australia), President Park Chung Hee (Korea), President Ferdinand Marcos (Philippines), Prime Minister Keith Holyoake (New Zealand), Lt. Gen. Nguyen Van Thieu (South Vietnam), Prime Minister Thanom Kittikachorn (Thailand), President Lyndon B. Johnson (United States).
Manila Summit Conference, 1966

In October 1966 New Zealand Prime Minister Keith Holyoake met with other Asian and Pacific leaders at the Manila Conference in the Philippines to discuss the escalating conflict in Vietnam.
At the end of this two-day summit Holyoake and the other attendees signed a joint communiqué outlining their aims and objectives in Vietnam. This document included basic policy goals, a review of progress and reform programmes in South Vietnam, and a list of elements required to achieve peace in Vietnam.
How to cite this page: 'Manila Summit Conference, 1966', URL: https://vietnamwar.govt.nz/photo/manila-summit-conference-1966, (Ministry for Culture and Heritage), updated 13-Sep-2012