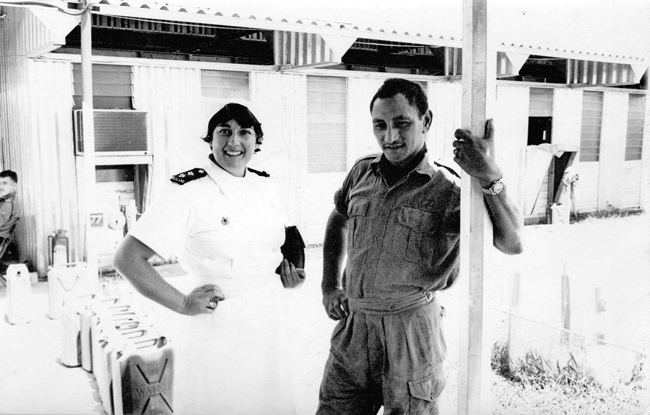 Extracts from interview with Susan Fowke, 5 June 2008
Reproduced with permission of Margaret Jupp
Margaret Jupp (nee Torrey) describes her uniforms on and off ward as a nurse with the Australian 8 Field Ambulance in Vietnam.
Before I went I had a tropical uniform made. It was a sort of cream dress, it was very short …well above the knees … and the hat that we wore was a sort of a peaked … it was grey and it had a high front in the top and a black shiny peak on it. I think I may have worn that to arrive in. This was the Royal New Zealand Nurses' tropical kit, maybe its Number Ones. The fabric had wool in it…. stiff belt around the waist, short sleeves and an open neck. That's when I wore this cap, this grey thing. I never ever wore it again I don't think.  With that uniform (I wore) flesh-coloured stockings and black shoes and a black handbag.
(On the ward) it was the same as I wore in New Zealand – a white uniform with the veil and the epaulettes with the Army rank on, and a little piece that said 'New Zealand'. White stockings, which you had to have suspenders of course to hold up, and white shoes. In the evening we were supposed to wear long sleeves. Nobody had told us, so I only had one long-sleeved uniform which was supposed to be for dining in, and the only other long-sleeved things I had were jungle greens.
Army Nurse Margaret Jupp recalls the pastoral care offered by padres [chaplains] in Vietnam.
The padres were lovely. I don't know if a lot of people went to church, but the padres were always around. They were great. They were just part of the team, if you like. And the New Zealand one, and I can't remember his name, he was very nice to me, when he came down from Nui Dat he always made a point of coming to see me.  …..  The padres were good. We had two. One was a Roman Catholic, the other was an Anglican I think. The Roman Catholic one would always turn up in the sisters' quarters during a storm with a bottle of whisky – I don't know if we were to protect him or he was to protect us.
Reference
Image courtesy Margaret Jupp
How to cite this page: '
Margaret Jupp
', URL: https://vietnamwar.govt.nz/photo/margaret-jupp, (Ministry for Culture and Heritage), updated 26-Jan-2015