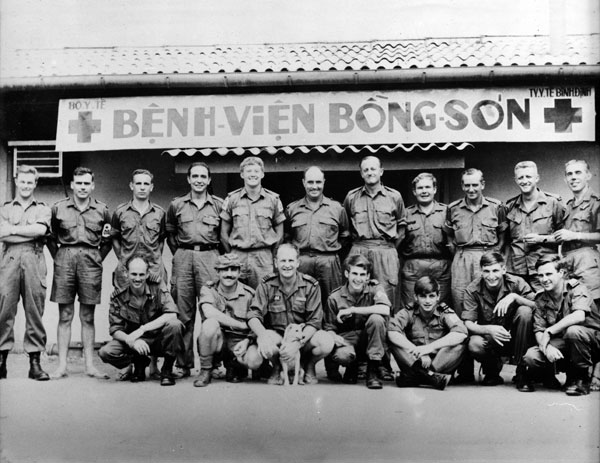 Members of the 1st New Zealand Services Medical Team outside the hospital at Bong Son, cica January 1970.
Back row (left to right): Gordon Watt, Tom Neve, Ian Blakeway, Arthur Norris, 'Blue' Stuart, Alan Earl, Brian McMahon, Owen Snelling, Bob Maitland, Eugene Clements, Gilbert Dampier.
Front row (left to right): Len Thompson, Tony Lancaster, Alan White, Dennis Manson, Lindsay Grenfell, Peter Stitt, 'Barney' Bowen.
How to cite this page: '
New Zealand Services Medical Team staff, 1970
', URL: https://vietnamwar.govt.nz/photo/new-zealand-services-medical-team-staff-1970, (Ministry for Culture and Heritage), updated 11-Jul-2013