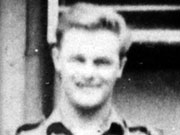 First name(s)
Gordon Sutherland
Honours & Awards
Public Health Service Medal 2nd Class (SVN)
Place of burial
Te Henui, New Plymouth
Notes
Killed in action, 1 March 1970 – booby trap. Sgt Gordon Watt was the RNZAF's only fatal casualty of the Vietnam War. He remains the only air force member killed as a result of enemy action since 1945.
Originally buried in Singapore, Sgt Watt's body was exhumed from Ulu Pandan Cemetery, cremated, and his ashes returned to New Zealand. He ashes were then reburied in Te Henui Cemetery, New Plymouth on 1 May 1976.
Disclaimer
The Vietnam List is an updated version of New Zealand's original Vietnam nominal roll – the Flinkenberg List – compiled by Captain Con Flinkenberg in 1972. Name, rank and unit information are from New Zealand military pay records. Read more about the Vietnam List.