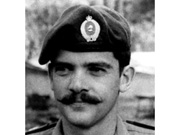 First name(s)
Norman John
Notes
Served as Platoon Commander, 1 Platoon, Victor 6 Company from 7 May 1971 to 26 August 1971. Then posted as Mortar Platoon Commander, Support Coy, 4RAR (ANZAC) Battalion until departing 10 December 1971. Replaced by Lieutenant Mike Harris. 
Led campaign to get three Victor 6 Company soldiers – William Papuni, Mike Williams, and John Galley – official recognition for their bravery during Operation Hermit Park, June 1971. See related material:
Disclaimer
The Vietnam List is an updated version of New Zealand's original Vietnam nominal roll – the Flinkenberg List – compiled by Captain Con Flinkenberg in 1972. Name, rank and unit information are from New Zealand military pay records. Read more about the Vietnam List.