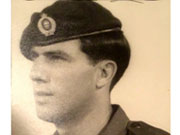 Notes
Initially served with the RNZEME as Mech/Draughtsman in Base Workshops at Trentham Camp.
Temporarily posted to 1RNZIR as an Int.Clerk at Burnham Camp before transferring to an infantry platoon. Upon arrival at Terendak, Malaysia was selected to join Victor 3 Coy as a rifleman in 1 Sec/2Pl.  
Posted back to Base Workshops on return to New Zealand for the remainder of his enlistment.
Disclaimer
The Vietnam List is an updated version of New Zealand's original Vietnam nominal roll – the Flinkenberg List – compiled by Captain Con Flinkenberg in 1972. Name, rank and unit information are from New Zealand military pay records. Read more about the Vietnam List.