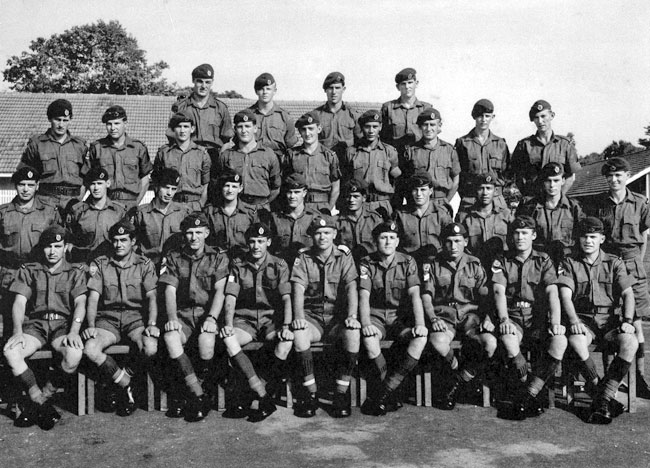 Members of 2 Platoon, Victor 3 Company at Terendak in Malaysia, February 1968. This picture was taken prior to their deployment to Vietnam.
Back row (left to right): Pte DRN Wilson, Pte K Wedderel, Pte DJ Orbell, Pte RG Whibley.
Third row (left to right): Pte GJ Preston, Pte H Roberts, Pte AGM Allan, Pte SG Williams, Pte GM Horne, Pte JH Harding, Pte BC Leathem, Pte RJ Dil, Pte LE Brown.
Second row (left to right): Pte DR Shand, Pte LG Powell, Pte NC Tither, Pte NL Martin, Pte NW Tahere, Pte DD Beverly, Pte MT Renata, Pte IE Michie, Pte JT Robinson.
Front row (left to right): Pte GJ Hollis, LCpl PLR Scia Scia, Cpl WJ Walker, Sgt VR Johnson, Lt RS Miller, Cpl J Dolan, Cpl WL Perry, LCpl DI Benseman, LCpl PB Sheild.
Read a series of Victor 3 Company tales written and collected by Ross Miller (seated middle of front row).
Can you identify any of the soldiers in this photo? Please post a comment below if you can help.
Reference
Image courtesy Ross Miller
How to cite this page: '
Victor 3 Company platoon, 1968
', URL: https://vietnamwar.govt.nz/photo/victor-3-company-platoon-1968, (Ministry for Culture and Heritage), updated 22-Jul-2014