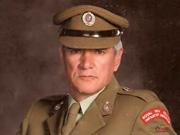 First name(s)
John Joseph
Place of burial
Taupiri Mountain
Notes
Posted Vietnam as Platoon Sergeant in Victor Company, 11 May 1967 to 2 Nov 1967.
Posted again to Vietnam as (Temporary) WO2 in HQ V Force in Saigon 17 Oct 1970, then to 1NZATTV and AATTV, 12 Aug 1971 to 4 Oct 1971. 
Disclaimer
The Vietnam List is an updated version of New Zealand's original Vietnam nominal roll – the Flinkenberg List – compiled by Captain Con Flinkenberg in 1972. Name, rank and unit information are from New Zealand military pay records. Read more about the Vietnam List.