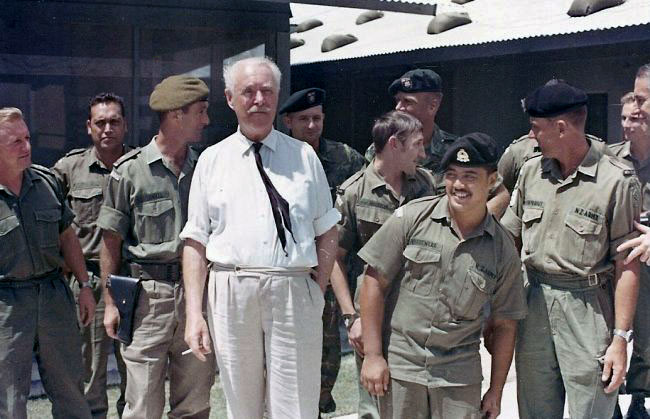 Lord Ballantrae, Brigadier Sir Bernard Fergusson (Governor-General of New Zealand 1962-1967) meets members of the 2NZATTV at Dong Ba Thin, 9th October 1972.
On the far right almost out of shot is Lieutenant-General Sir Leonard Thornton, previously Chief of General Staff and Chief of Defence Staff. At the time he was New Zealand's Ambassador to South Vietnam.
Some of the soldier's in the photograph have been identified. See comments below for details.
Reference
Image courtesy Nigel Brown
How to cite this page: '
Sir Bernard Fergusson visits 2NZATTV
', URL: https://vietnamwar.govt.nz/photo/sir-bernard-fergusson-visits-2nzattv, (Ministry for Culture and Heritage), updated 09-Aug-2013