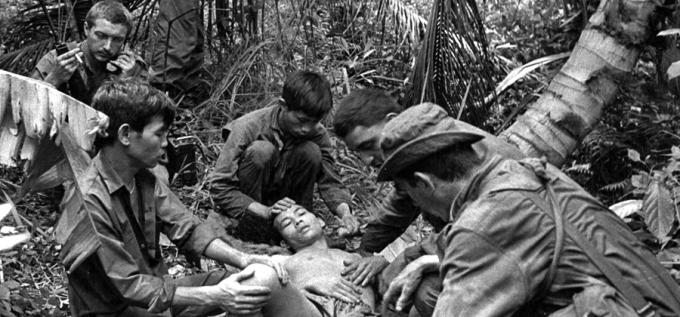 New Zealand forces fought in Vietnam between 1965 and 1972, with the majority involved (after mid-1966) in artillery offensives, cordon and search patrols, intelligence gathering and reconnaissance missions around Phuoc Tuy province. New Zealand gunners were one of three field artillery batteries comprising part of the 1st Australian Task Force (1ATF). Kiwi infantrymen made up two of the Anzac Battalion's five company-sized units. A 26-man New Zealand Special Air Service (NZSAS) troop completed the Australian SAS squadron at Nui Dat. While the army claimed pride of place in the Vietnam War effort, the Royal New Zealand Navy (RNZN) and Royal New Zealand Air Force (RNZAF) also sent personnel. For these forces, the Vietnam conflict offered unrivalled opportunities to gain operational experience in a theatre where major American and naval air forces were deployed. [1]
Kiwi gunners
The Vietnam War was the first time New Zealand artillery forces had seen action since Korea and this time they were the first unit into action. On 16 July 1965, 161 Battery, RNZA, fired their first shots into the infamous War Zone D, near Saigon (now Ho Chi Minh City). Kiwi gunners are renowned for their involvement several notorious early fire fights of the Vietnam War, including the Battle of Long Tan in 1966, the Tet Offensive, and operations Coral and Balmoral in 1968. Kiwi gunners were initially attached to the US 173rd Airborne Division in Bien Hoa. However, most of the 750 who served in Vietnam did so as part of 1ATF at Nui Dat. In 1966, New Zealand added another two L5 pack howitzers to its original four-gun arsenal to join forces with the Royal Australian Artillery (RAA) field regiments. In 1967, the L5s were replaced with 105mm M2A2 howitzers. The battery was involved in 17 major operations before their withdrawal in May 1971.
Infantry operations
In May 1967, a 182-strong rifle company dubbed Victor (V) was deployed from the 1st Battalion, Royal New Zealand Infantry Regiment (1RNZIR) base in West Malaysia. The second Victor Company (V2) was in place when Whisky (W) Company formed-up in December 1967. The Kiwi infantry contingent integrated with 2nd Battalion, The Royal Australian Regiment (2RAR) in March 1968 to form 2RAR/NZ (ANZAC) Battalion. Over a five-year period, the nine New Zealand rifle companies rotating through Nui Dat engaged in a constant round of jungle patrols, ambushes, and cordon-and-search operations. Less than a week after arriving, Victor Company had its first enemy contact, leaving one Viet Cong killed, another possibly wounded and five suspects detained. [2] This inaugural, small-scale action characterised the pace and scale of infantry operations in Vietnam. V2 member Terry Brown recalls: "A day on operations was from before first light until last light, about 12–14 hours. Sometimes the entire time was spent patrolling, other times several days were spent in an ambush position."
Air forces
Several pilots from the Royal New Zealand Air Force (RNZAF) were seconded to No. 9 Squadron, Royal Australian Air Force (RAAF) flying Iroquois helicopters. From December 1968 another two RNZAF officers served as forward air controllers with the 7th US Air Force, until their withdrawal in February 1972. RNZAF transport aircraft were also active in Vietnam, not only for the duration of New Zealand's military involvement, but also beyond in support of medical and humanitarian teams through to the end of the conflict in April 1975. In January 1969, a 26-strong New Zealand SAS troop joined the Australian SAS Regiment Squadron based at Nui Dat as '4 Troop'. NZSAS took part in intelligence-gathering operations in the Phuoc Tuy province, mounting 155 patrols over the two years of their deployment. Demand surpassed capacity for NZSAS reinforcements, with many troopers completing more than one tour and veteran gunners and infantry 'grunts' retraining to return to Vietnam with the SAS before the unit's withdrawal in February 1971.
---
[1] Ian McGibbon, New Zealand's Vietnam War, Exisle, Auckland, 2010, p. 182 [2] McGibbon, p. 188