Submitted by Morepork on February 15, 2012 3:59pm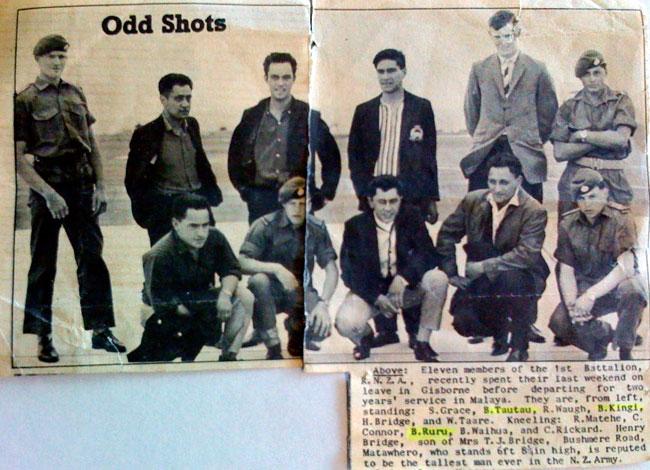 Soldiers from the Gisborne area before they deployed to Malaysia, 1965. The picture is from Photo News – a Gisborne-based photographic news magazine published between 1954 and 1975.
Transcript:
Eleven members of the 1st Battalion, R.N.Z.A. [RNZIR], recently spent their last weekend on leave in Gisborne before departing for two years' service in Malaya [Malaysia]. They are, from left, standing: S. Grace, B. Tautau, R. Waugh, B. Kingi, H. Bridge, and W. Taare. Kneeling: R. Matehe, C. Connor, B. Ruru, B. Waihua, and C. Rickard. Henry Bridge, son of Mrs T. J. Bridge, Bushmere Road, Matawhero, who stands 6ft 8in high, is reputed to be the tallest man ever in the N.Z. Army.
Reference:
Article courtesy Bill Ruru
How to cite this page: 'Gisborne Photo News article', URL: https://vietnamwar.govt.nz/photo/gisborne-photo-news-article, (Ministry for Culture and Heritage), updated 16-Feb-2012