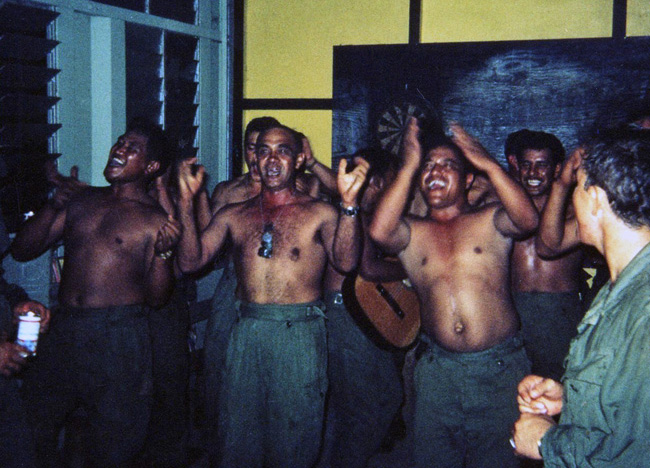 A performance by members of the Māori concert party at Nui Dat. In November 1968 3RAR, the Australian Battalion 161 Battery had been supporting returned to Australia after its 12 month tour. As was customary the Battery put on a farewell BBQ for them. During the event members of the Māori concert party put on a number of items by way of entertainment. The concert party were led by the late Whakahuihui Vercoe (middle front row), a well known and popular Padre who later rose to become Māori Archbishop of New Zealand.
Front row (left to right): Gnr Matehaere Gerrard, Ch Cl 3 Whakahuihui Vercoe, Gnr Heta Tobin (Te Paatu, Kaitaia).
In the back row behind Gnr Gerrard is Gnr Matiu Ellis (Tauranga) and on the far right is Gnr Gary Pickering (Picton).
Reference
Image courtesy Brian Edmonds
How to cite this page: '
Māori Concert Party
', URL: https://vietnamwar.govt.nz/photo/m%C4%81ori-concert-party, (Ministry for Culture and Heritage), updated 30-May-2012