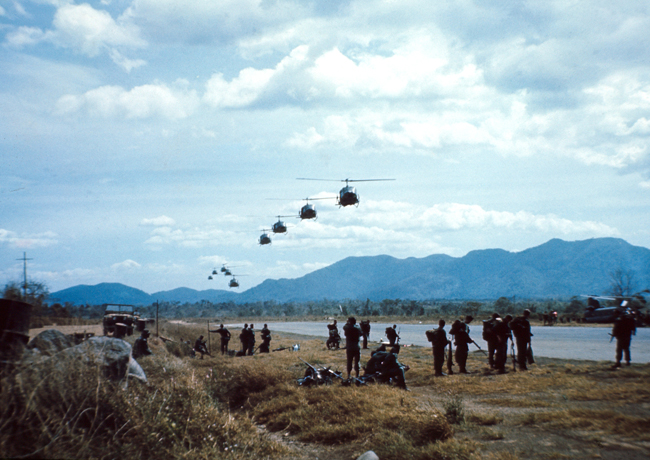 Main image: Helicopters coming in for pick up for Operation Coburg, Luscombe Field, Nui Dat, January-February 1968.
Victor 2 Company was formed from the 1st Battalion Royal New Zealand Infantry Regiment which was part of the 28th Commonwealth Brigade based in Terendak Garrison, Malaya.
V2 Coy consisted of the Company Commander Major Brian Worsnop, 2nd in Command Capt Mike Dudman, Platoon Commanders; 4 Pt Lt Tony Howell, 5 Pt Lt Gray Shattky, 6 Pt Lt Hamish Wilson and senior NCOs. They were all professional veterans of the Malaya, Borneo campaigns.
Infantry soldiers made up the remainder of the company – 90% completed active service in Borneo while the remaining 10% completed one year intensive training in the jungles of Malaya. The Company was approximately 140 soldiers in strength.
All NZ troops who served in Vietnam were volunteer regular personnel.
Victor 2 Coy joined with the 2nd Royal Australian Regiment to form the ANZAC Battalion in Vietnam.
Tony Pringle photographs
How to cite this page: '
V2 Company - Tony Pringle
', URL: https://vietnamwar.govt.nz/photo/v2-company-tony-pringle, (Ministry for Culture and Heritage), updated 14-Mar-2019