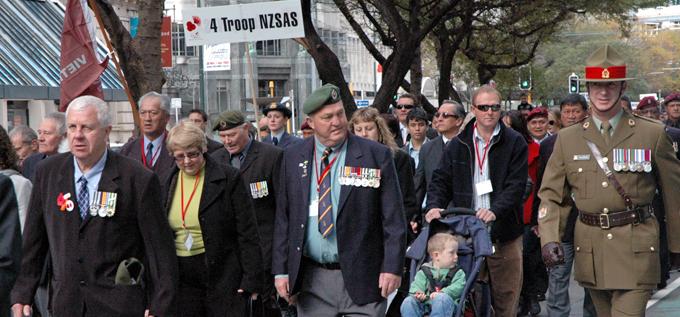 The allied coalition's tactical shift from direct military intervention to 'strategic Vietnamisation' – a staged handover of responsibility to local forces – marked the beginning of the end of New Zealand's combat commitment in the south. In January 1971, the first of two NZ Army training teams arrived in Chi Lang with a mandate to train Army of the Republic of Vietnam (ARVN) soldiers in basic warfare techniques. Combat troops had packed out of Nui Dat, and our services medical team vacated Bong Son, before the end of 1971. Training teams and Saigon-based support staff followed in December 1972. The last RNZAF flight out of Vietnam in April 1975 carried the New Zealand Ambassador to South Vietnam. South Vietnam fell to the North Vietnamese on 30 April 1975; just four hours after the last Americans were evacuated from the city. NZ civilian surgical team member Edric Baker, and aid work Sister Sheila O'Toole opted to stay and were briefly taken prisoner under the new regime. Both were released after a few weeks and evacuated on the final helicopter flights from the US Embassy compound.
Welcome home?
The end of their tour of duty rather than the end of the war initiated homecoming for most soldiers. Only one official national homecoming parade was held in Auckland in 1971 on the withdrawal of 161 Battery, RNZA, and 4 Troop NZSAS. Most veterans recall their homecoming as uneventful at best – disappointing or upsetting at worst. David Grant was one of many veterans who found it 'galling' to arrive home under the cover of darkness without a uniform so as not to attract attention. While this arrangement can be attributed to routine air traffic schedules at Whenuapai Airbase, it remains an unresolved point of contention for some veterans. While relieved to be leaving the war zone, many Vietnam veterans felt shunned by this lack of recognition for their efforts. Many veterans discount 1971's protest-disrupted parade in Auckland. This perceived absence of a formal welcome home was one catalyst for the veterans who organised their own parade in 1998. A decade later the government followed suit, closing central Wellington streets to grant veterans and their families an 'honour march'. This was followed by a Crown apology delivered by Prime Minister – and former anti-war movement leader – Helen Clark. This event marked a significant shift in attitude and understanding towards Vietnam War veterans, who are now the most visible group of New Zealand returned servicemen.
Welcome Home parade 1971
When Auckland council officials organised a formal reception on 12 May 1971 to mark the return of 161 Battery RNZA and 4 Troop NZSAS, anti-war protesters staged a demonstration that disrupted proceedings. The Band of the Royal New Zealand Artillery, was followed by a double column of Land Rovers carrying the gunners of 161 Battery, and troopers from the NZSAS. The march was relatively uneventful until the column reached a reviewing platform erected outside the Auckland Town Hall. Red paint bombs and firecrackers were thrown on the road, and several paint-covered protesters broke free from the crowd and sat on the road in an attempt to block the parade route. The band altered its course, and protesters only caused a momentary disruption before being they were removed by police.
The Memorandum of Understanding and Tribute 08
The Crown signed a Memorandum of Understanding (MoU) with Vietnam veterans and their families in 2006. The agreement included a trust to support veterans' children, a national reunion, and official 'welcome home' parade named Tribute 08, and a formal Crown apology. For many veterans, these events represented hard-won closure. Others consider it too little too late. Families grappling with intergenerational health effects of toxic exposure want recompense for generations to come. The so-called reconciliation package included a four-year oral history and digital archiving project. It extended the eligibility for military personnel who served in the Vietnam War to be awarded medals in recognition of their service. The first 26 recipients of the New Zealand General Service Medal 1992 (Warlike) with Vietnam clasp were presented with their medals in May 2008. The New Zealand Defence Force (NZDF) also announced that more than 3000 New Zealand Vietnam veterans were eligible for this medal.